Homes for Sale
The list below shows homes currently for sale at Cherokee Village. We have a salesperson on site to show you available homes. Contact info@cherokeevillage.com.au or call 08 94099039
Click here for a map of Cherokee village homes: cherokeevillagemap
NEW LISTING
Unit 126, ON SITE CARAVAN WITH HARD BUILT ANNEXE $75,000
New to the market is this neat little home. originally a BIG caravan that has a built on hard annexe making for an added large Dining / lounge area. It has an ensuite bathroom with shower and toilet as well as a single carport. the front area is completely paved and there is a small shed with a sink in the back yard.
Unit 141 $165,000
2 Bedrooms
---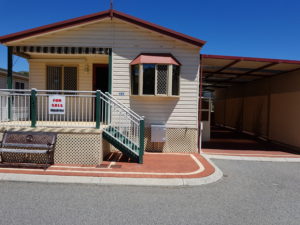 Wood flooring throughout, new bathroom, gas stove and HWS (electronic start). Good security – all windows with security grills and security doors. 3m x 2m shed, brick paving, under cover entertaining area, large front verandah and a 2 car carport.
PRICE REDUCED Offers over $169'000.00
Unit 32 Spacious 2 Bedroom Home
Roomy 2 bedroom home with separate bathroom, laundry & Toilet. large spacious kitchen, lounge with high raked ceilings. this home has straight access into a double length carport and is on a corner block. It has a timber ramp at the rear with a 3 X 2.4 mtr garden shed.
---
Unit 64 Offers above $82'000.00
Tidy 1 Bedroom with Lounge, Kitchen and bathroom. this home has a covered outdoor decking area with access ramp and a single carport.
---
Unit 153 $115'000.00 !!! SOLD !!!
1 bedroom home with semi ensuite. This home has a large open lounge area with Kitchen & dining/Laundry. It is situated on a large rear corner block, has a double length carport with a covered outdoor entertaining area. The home has a front decking area as well as timber ramps for easy access and a small garden shed.
[2jslideshow 705]